Your Agile, High Enrolling, and Dependable Site
Primary Care and Internal Medicine
Our expert research team conducts clinical trials and studies covering a wide array of different areas of primary care and internal medicine, including the prevention, treatment, and diagnosis of allergies, influenza, skin infections, and more.
 Pre-Diabetes / Metabolic Syndrome
Epidemiology and Urgent Care
Our specialist researchers study a wide range of epidemiology and urgent care-related conditions, from cold and flu to COVID. Our trials cover anything from different options for treatment and solutions to diagnosis and medication for long-term related health conditions.
Neurological conditions can be a life-changing diagnosis, particularly in the cases of illnesses such as epilepsy, Parkinson's, or migraines. We conduct various clinical tests and trials seeking new treatments, solutions, and diagnostic processes for neurology-related conditions.
Our clinical team works directly with participants with a range of psychiatric diagnoses and issues to further research and contribute to new treatments and solutions. Our psychiatry trials cover a spectrum of different mental health conditions and concerns to support the testing and development of new medications in addition to short and long-term treatment options.
Ongoing studies run by our specialists at Cullman Clinical Trials include rheumatology-related conditions, such as Lupus, Fibromyalgia, and Arthritis. Our trials cover a broad scope of different solutions for treatment, ongoing care, and diagnosis of related illnesses.
Cardiovascular disease can be a deadly or life-limiting diagnosis for many patients. Our work in cardiovascular clinical trials and research studies aim to produce and develop new treatments or medications to combat heart-related diseases.
Our specialist clinical trials also cover a range of lung and breathing-related conditions, such as asthma, COPD, and respiratory diseases. Our participants support ongoing trials and studies into the diagnosis, continuous medication, and medical care to treat pulmonary issues.
Renal impairment due to genetic disorders, lifestyle or any other cause can lead to serious health concerns. Our dedicated team works on a range of trials related to impairment or failure of the kidneys to test new diagnostic processes, identify new medical treatments and analyze the effects of specific medications.
Frequently Asked Questions

A clinical trial is a voluntary study conducted by specialists like our team at Cullman Clinical Trials. We test medications, devices, and other equipment in a safe setting over several different phases. If you volunteer to participate in a clinical trial, you may be part of any phase of the study, from initial testing at Phase I to final testing at Phase IV.
Clinical trials are designed to be carried out in the safest environment possible for researchers and participants alike. Our highly trained staff have the knowledge and expertise to administer any treatments and guide the study process, and we're always on hand to offer support and answer questions. As clinical trials typically involve medications or treatments that are not yet approved by use by the general public, there may be certain risks. All the information you need will be provided when you sign up as a volunteer participant.
There are a few reasons you may wish to be involved in a clinical trial. Firstly, if you have a long-term illness or medical condition, you may want to further the research surrounding improving treatment options and diagnostic processes for that condition. Another reason many people contribute to clinical trials is the pay you receive for involvement. We can also provide potential access to medication, devices, or treatment that would otherwise be unavailable to you or too costly to purchase.
No – you don't need to give us anything apart from your time to be included in a clinical trial. If you are selected as a participant in a particular study, we will provide you with payment in compensation for your involvement.
You are not required to have health insurance to participate in a clinical trial. Any treatment you receive as part of a study will not be billed to your insurance.
Our studies are entirely voluntary. If you need to drop out for any reason, you can do so – no cost and no questions asked.

No Cost
Our clinical trials are entirely free for participation to interested volunteers. All we ask is your time to carry out ongoing studies to support medical research and knowledge across the country.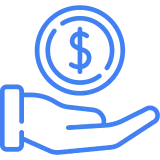 Get Paid
Our participants will receive full and fair compensation for their part in advancing medical study. Our friendly team can walk you through the details for more information about the specific pay you could receive for a trial.

Access Innovative Treatments
Our clinical trials are the ideal solution to access medication that may be unavailable or unaffordable to the general public. If you fit into our requirements for a clinical trial, we provide access to the latest innovation in medical care for a range of conditions and medical needs.